Beyond the technology
Using KoboToolbox to support female entrepreneurs and combat air pollution in Bihar
Women in rural India are disproportionately affected by respiratory and cardiovascular diseases from prolonged exposure to burning cooking fuel. Consisting of a combination of dried plant material, livestock dung and fuelwood, these biomass cooking fuels produce pollutant concentrations even worse than coal.
As the world's third-largest emitter of carbon dioxide, India faces severe health and environmental concerns due to high concentrations of air pollution, with 1.3 million deaths each year attributed to the use of biomass cooking fuel. Although India has made significant progress in improving access to liquefied petroleum gas (LPG) for cooking, it is an unaffordable option for many, and biomass burning for household cooking remains the number one air pollution emission source in the Indo-Gangetic Plain (IGP).
To combat this problem, New Delhi's Energy and Resources Institute (TERI) was contracted by the World Bank to help establish a Clean Cookstove Pilot in Bihar state, an area with one of the highest levels of ambient air pollution. Launched in March 2021 to help inform the state's action plan for air quality management, this effort was supported by the World Bank through the capacity-building program Geo-Enabling Initiative for Monitoring and Supervision (GEMS). The pilot used KoboToolbox to collect data for designing a program to implement more efficient cookstove solutions, enhancing rural energy access while supporting local female entrepreneurs.
At the project inception stage in June 2021, the World Bank invited the TERI colleagues to participate in 10 hours of virtual GEMS trainings to learn how the KoboToolbox platform can be used to collect data in the field. After developing the digital survey questionnaire, the project team's survey coordinators instructed the eight field enumerators on how to conduct both the digital survey and the cookstove demonstration.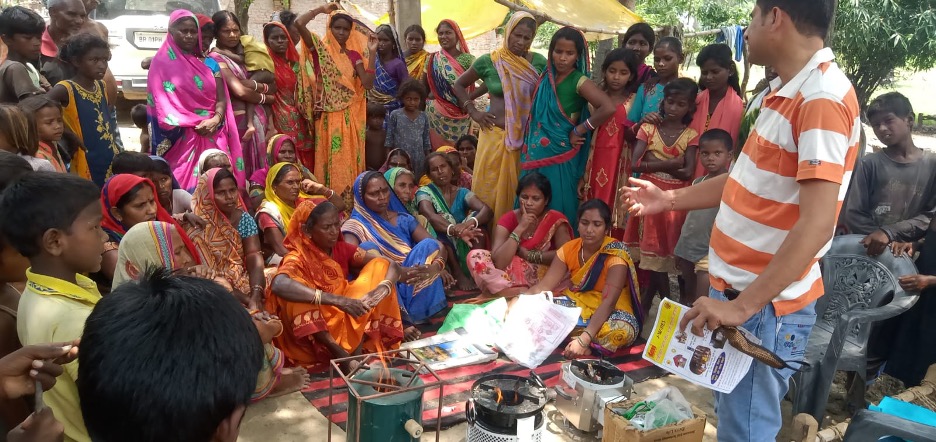 The KoboCollect mobile Android app was used to survey 500 rural households over the next three months to understand individual cooking-energy preferences across the state. The results of this survey informed 40 one-hour demonstrations of three new cleaner-burning cookstove models to determine which ones best met users' needs.
The project's next phase established women-led energy enterprises that made cleaner cookstoves available for purchase and servicing. In collaboration with the Bihar women's self-help group network JEEViKA, 25 local female entrepreneurs were selected to establish shops in districts across Bihar State. TERI supported the entrepreneurs with branding and outreach activities, including the organization of 23 community-awareness programs across Bihar on the benefits and usage of improved cookstoves.
While the enumerator team's dedicated efforts encountered some challenges (extreme rain and flooding in mid-August and early September, for example, limited the number of villages that could be surveyed), the Clean Cookstove Pilot was incredibly successful and demonstrated the importance of data collection in the fight against air pollution and the effort by women-led businesses. Using improved biomass cookstoves in Bihar will help reduce air pollution and mitigate related health risks posed to women and their families.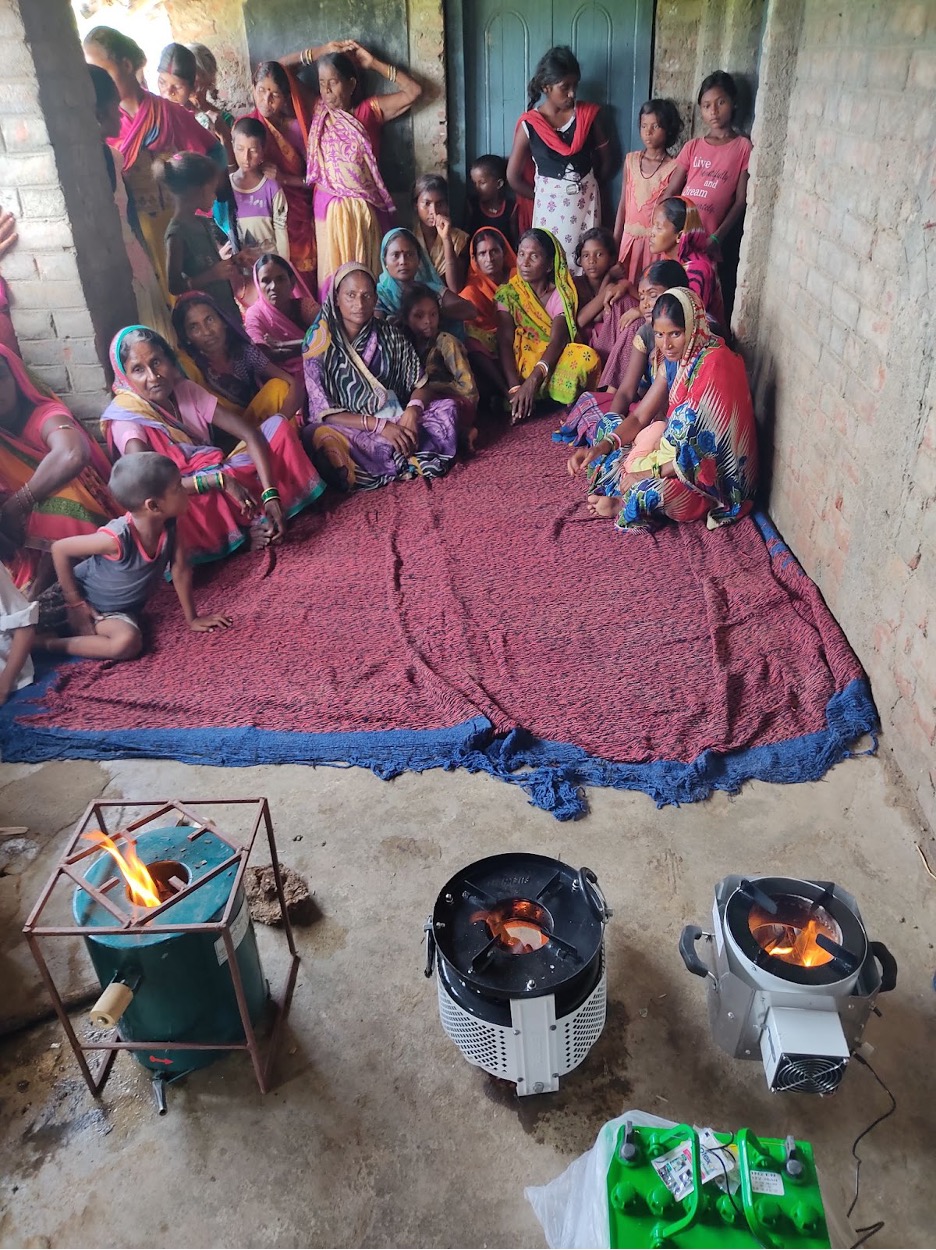 The information collected through the digital survey will contribute to the Bihar State Air Quality Management Plan, one of the first in India. More broadly, the survey will help inform policymakers and stakeholders in addressing the urgency of worsening air pollution.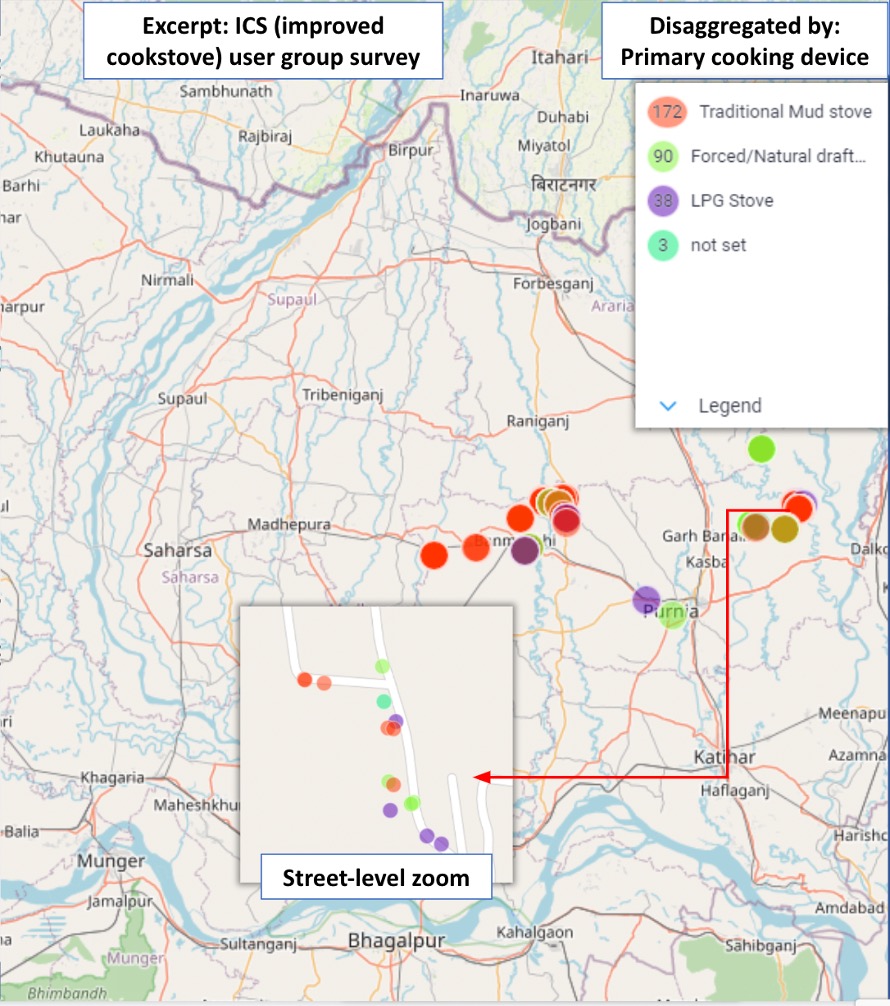 Today, the TERI project team is preparing to use KoboToolbox as a management information system to support the distribution of all 1,000 improved biomass cookstoves available in Bihar through the Clean Cookstove Pilot. As the pilot gives way to implementing a more ambitious state-wide program, all future project surveys will be conducted via the KoboCollect app and KoboToolbox platform. Other TERI team members have requested training by their own GEMS-trained colleagues on using KoboToolbox, allowing other Institute initiatives to benefit from a simple and easy way to collect and analyze real-time data. TERI is already working on another project that involves conducting surveys in heavily forested regions.
In its next stage, the World Bank Air Quality Management program is focusing on how to learn from and expand on this initial experience in Bihar to help other IGP states, such as Uttar Pradesh and Haryana, to combat air pollution from household biomass burning.