Beyond the technology
Enhancing humanitarian aid efforts: Introducing the new KoboToolbox monday.com integration app
We are excited to announce the collaboration between Kobo and monday.com's Emergency Response Team (ERT) for enhanced data collection, analysis, visualization, and project management. As part of our commitment to enabling positive change and supporting organizations that are making a difference on the ground, we are proud to offer this integration for free.
With the new app, organizations can collect vital information with KoboToolbox and then seamlessly integrate their data with monday.com's Work OS platform. The integration will make it easier for organizations to leverage the strengths of both platforms, which will allow for simplified data collection, automated workflows creation, data visualization, and collaborative teamwork. The app is now available on monday.com's Apps Marketplace.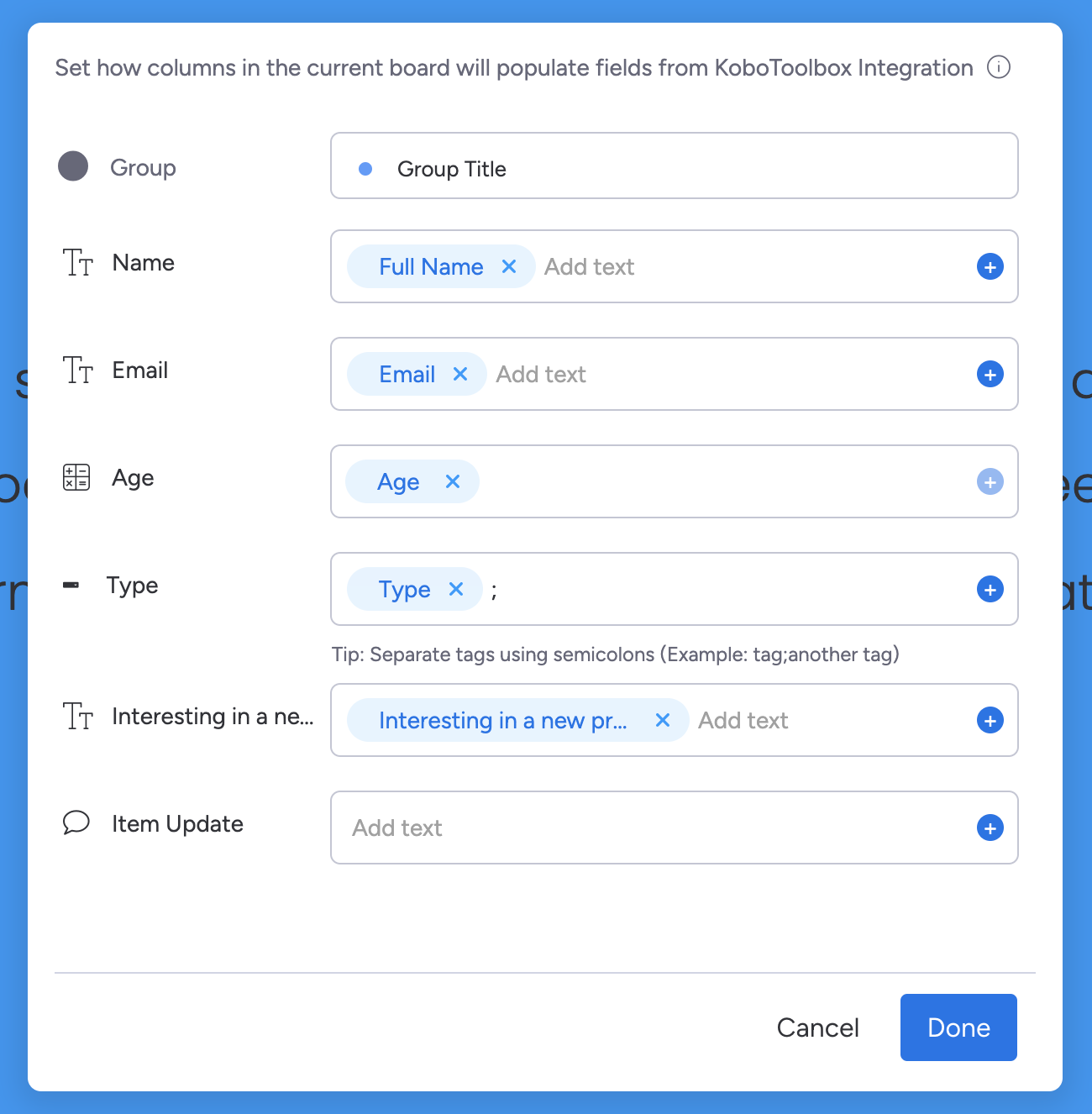 How it works
The new integration allows organizations to synchronize submissions received to a KoboToolbox project with a monday.com board. Once an organization has installed the app on their monday.com account and provided their KoboToolbox API key, any submission that is received by a connected KoboToolbox project will immediately be copied using KoboToolbox's REST API feature and mapped to the relevant monday.com columns. During the initial set up stage, users can also choose which columns from their KoboToolbox project to import and select the label language used to display the columns. Read more on how to install and configure the integration.
About monday.com
The monday.com Work OS is a low-code/no-code platform that democratizes the power of software, so organizations can easily build work management tools and software applications to fit their every need. The platform is fully customizable to suit any business vertical and is currently used by over 186,000 customers across 200 industries in over 200 countries and territories. Within monday.com's philanthropic initiative, the ERT is dedicated to supporting aid organizations in their disaster response efforts, enabling them to maximize their impact. The ERT focuses on driving digital transformation within core emergency operations, providing comprehensive support during disaster stages, preparedness, and recovery. By leveraging the power of monday.com's platform, aid organizations and governmental agencies can streamline their workflows, enhance collaboration, and improve data-informed decision-making, ultimately leading to more efficient and effective responses to crises.
Using the integration for your next KoboToolbox or monday.com project
As the most widely used primary data collection tool in the humanitarian nonprofit sector, KoboToolbox now has more than 700,000 users globally who collect over 20 million surveys a month. Bringing together the strengths of both platforms, the new KoboToolbox integration for monday.com offers a comprehensive digital tool for data management. Organizations using KoboToolbox and monday.com can collect data online or offline, with Enketo web forms or KoboCollect, and easily integrate project data with a monday.com board to create a complete workflow. The monday.com platform can then be used for real-time visualization, cross-team collaboration, automated workflows for emergency and other project management, resource administration, and reporting.
The partnership between Kobo and monday.com marks a significant step forward in humanitarian data management. The free offering of the new integration underscores Kobo and monday.com's commitment to driving positive change and supporting organizations dedicated to making a difference.